LINKEDINPINTERESTREDDITTUMBLRSTUMBLEUPON   Show Discussion NTSB: Driver in Fatal Crash Was Speeding, Had Prior Wrecks By The Associated Press December 8, 2016 Updated: December 8, 2016 Share This undated photo provided by the Baltimore Police Department shows Glenn Chappell. Chappell the driver of a school bus involved in a deadly crash on Nov. 1, 2016 in Baltimore, had a history of previous crashes and had a seizure the week before, national investigators said Wednesday, Dec. 7. (Baltimore Police Department via AP, File)
US Share this article The driver of a Baltimore school bus that careened into a transit bus, killing him and five others, was speeding, had a history of previous crashes and had a seizure the week before, national investigators said Wednesday.Glenn Chappell was driving about 57 mph in a 30-mph zone — nearly twice the speed limit — when he struck a Ford Mustang from behind before colliding with an oncoming Maryland Transit Administration bus last month, according to the National Transportation Safety Board's initial report.Chappell was driving the school bus for AAAfordable LLC of Baltimore, which held a contract with Baltimore City Public Schools until Nov. 21 of this year. No children were on board at the time of the crash.The transit bus driver and four passengers were also killed. Eleven people were injured.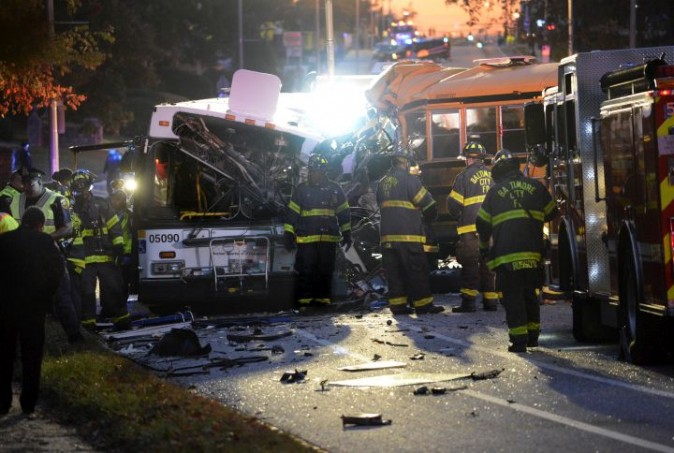 In this Tuesday, Nov. 1, 2016, file photo, fire department and rescue officials work at the scene of an early morning fatal collision between a school bus and a commuter bus in Baltimore.  (Jeffrey F. Bill/The Baltimore Sun via AP, File)Reports referencing Chappell's previous crashes and other incidents said Chappell had "seizure-like episodes." Chappell had an actual seizure just a week before the Nov. 1 crash. In addition, while Chappell had a medical certificate allowing him to drive the school bus, he had not filed it with the Maryland Vehicle Administration, which made it illegal for him to be driving the bus, the report said.Chappell's wife told investigators after an earlier crash that he had been taking medication for seizures when he got into an accident two years ago.Chappell had been driving buses since 2008. He began working for AAAfordable in 2014, but took a break between April and August of this year, during which time he drove for other bus companies.Shawn Braxton, who was behind the wheel of the Ford Mustang, was shocked to learn that Chappell had both a history of car crashes and a known medical condition."That's just crazy," Braxton said in an interview with The Associated Press on Wednesday.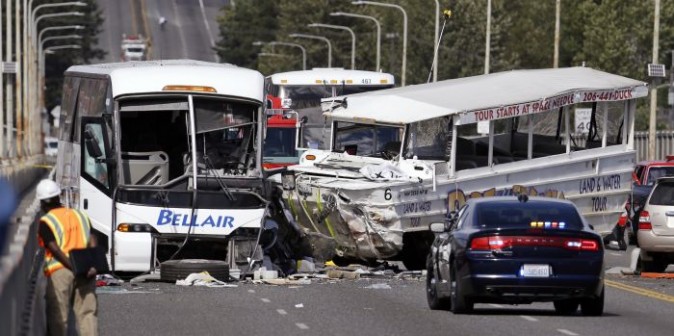 In this Sept. 24, 2015, file photo, a "Ride the Ducks" amphibious tour bus, right, and a charter bus remain at the scene of a fatal collision on the Aurora Bridge in Seattle.  (AP Photo/Elaine Thompson, File)"I'm upset about it, and saddened because he felt the need to continue to drive the bus even though he had a medical condition, and I'm saddened that the bus company kept him hired because he had a medical condition and they should have been monitoring him," he said.The NTSB is also investigating a school bus crash in Chattanooga, Tennessee in which six children died and 12 others were admitted to the hospital. The bus was carrying 37 children at the time of the wreck. The driver, Jonathan Walker, has been charged with multiple counts of vehicular homicide. Records showed that students had complained about Walker's driving, and that he'd been in an accident just two months before the wreck.Baltimore Mayor Catherine Pugh, who was sworn in Tuesday morning, said in a statement that she is "very concerned about the way bus drivers are cleared for duty.""We entrust the lives of our children to these public servants, so we need to make sure they are up to the task," Pugh said.Dr. Stephen Richards, director of the Southeastern Transportation Center at the University of Tennessee, who reviewed the preliminary report, said the lack of communication between the MVA and the school system about Chappell's outdated medical certificate could be an area that needs attention."The fact that no certificate had been turned in, and the public agency that kept track of that certificate … had recognized that he should not be driving, that's where the breakdown occurred," Richards said. "If there's lag time before the entire system caught it with that, they may need to look at that and enact some safeguards."George Bogris, an attorney representing AAAfordable, did not immediately return a call and email seeking comment.Del. Kumar Barve, who chairs the Maryland House Environment and Transportation Committee, said the report reflected "a failure of the school system," and added that he planned to have the legislative committee briefed on the NTSB report.Baltimore schools spokeswoman Edie House-Foster said in a written statement that the school system is "continuing to work diligently to review and tighten processes and practices" related to bus contracts."The safety of our students, the adults who staff school buses and other drivers and passengers is our top priority," she said. House-Foster declined to comment further.